About Me (London iPhone developer)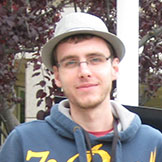 I am a highly skilled London iPhone developer with considerable experience building top-notch web, iPhone and iPad apps. My portfolio includes one of the most successful iPad magazine apps – the award-winning Audi Magazine app, which was #1 in the App Store. My game Pub Darts was launched in the early days of the App Store and has been downloaded over 20,000 times. I have also worked with other high profile clients to deliver successful iPhone apps and have over 6 years of media agency experience helping clients such as MTV, the BBC, UNICEF and Imperial College London.
As an iPhone developer, I like to have a sharp focus on the small details of an application to create something that is highly polished and has a premium feel to it; from subtle but effective animations though to optimised algorithms and well-written code. Before iOS development I was creating rich interactive web applications in Flash and developing PHP backend systems to support the rich interfaces I was creating. This has given me a great range of skills and really helps when delivering applications for modern graphics-rich mobile devices, especially as most apps consist not just of an iPhone or iPad client but require servers to feed them with data, handle push notifications and manage users.
In my spare time, I create fun games for the iOS platform. Pub Darts is an iPhone app where you can play a game of darts but has the added feature that you can connect to Facebook or snap a picture and put your friend's photo on the dartboard, all in good fun of course! I also like to relax in the suburbs flying remote controlled model aeroplanes and make awesome tea.
I have set up my own London-based company, Vivid Reflection developing iPhone and iPad apps. If you need an iPhone developer or would like me to consult, freelance or build an application for you please get in touch.